Preparation for Health Check-up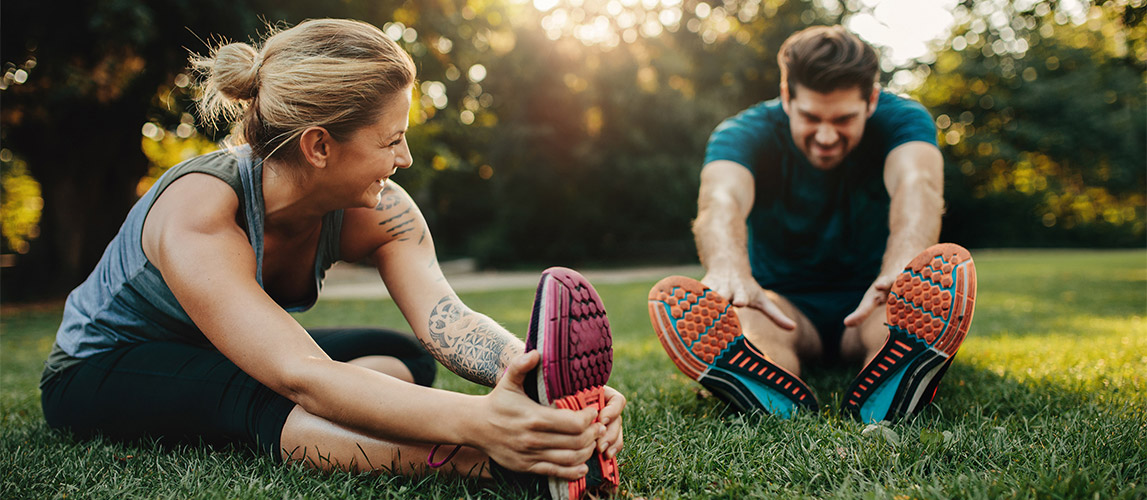 WHAT TO EXPECT WHEN YOU ARRIVE AT THE MEDICAL CENTER
CHECK IN & REGISTRATION
1. Registration
- Check in at reception.
- Provide your name/company/health care package.
For Expats:
If you would like to combine your checkup with a work permit exam, please inform the Care1 staff at the registration desk/email us prior to your samples are collected and provide the required documents:
- Three passport photos (size 4 x 6, white background) and your passport.
- Don't forget your insurance card for the insurance claim.
2. Medical History Form
You are required to fill in a medical history form (for corporate clients, this form and/or any other special form required by the company (if applicable) can be sent in advance and submitted on the sample collection dates).
You can take your time to fill in the form during the checkup process.
Kindly take a seat inside the corridor/waiting area to fill out the medical history form.
3. Changing into the Gown
There is a specific dress code for the examination. You will be asked to change into a gown provided by the medical center. At certain stages you will be required to loosen your gown and expose certain parts of your body as part of the thorough medical checkup. This will facilitate the process in a timely manner without holding up clients by getting changed at each station.
Pick a gown (S, M, L or XL: upon request). Bring along your reading glasses.
Keep your pants/skirt on (women: remove your bra for chest X-ray, breast ultrasound, breast examination & mammography).
Keep your belongings in lockers and remove the wristband, or you may leave your backpack with us at reception.
Switch off your mobile phone or put it on silent mode.
After getting changed, please come back to reception.
YOUR CHECKUP WILL BE IN THREE PARTS
Which will be scheduled in 2 appointments.

DURATION OF THE PROCEDURE DEPENDS ON INDIVIDUAL PACKAGE AND TEST
Our medical coordinator and nurses will call your name for the following tests:
Blood sample (if not yet submitted).
Height & weight measurements | Optometry | Audiometry | ECG | Radiology | Ultrasound | Gynecological examination
+ additional tests (if applied).
(*) Note: To ensure a full bladder, please do not urinate before the ultrasound exam.
PHYSICAL EXAMINATION & CONSULTATION WITH DOCTOR (INTERNAL MEDICINE)
15–20 minutes (normally on the second appointment).
COMPLETION & MEDICAL REPORT
Getting Changed: Once you have completed the checkup process, please proceed to the changing room to get changed.
Sign Bill and Docs: Please come back to reception for setting up your next appointment/making payment/signing your claim form & invoice.
Medical Report: Your medical report will be delivered to the email address registered on your medical history form or by hard copy upon your request at reception.
GUIDELINE FOR BLOOD AND URINE SAMPLE COLLECTION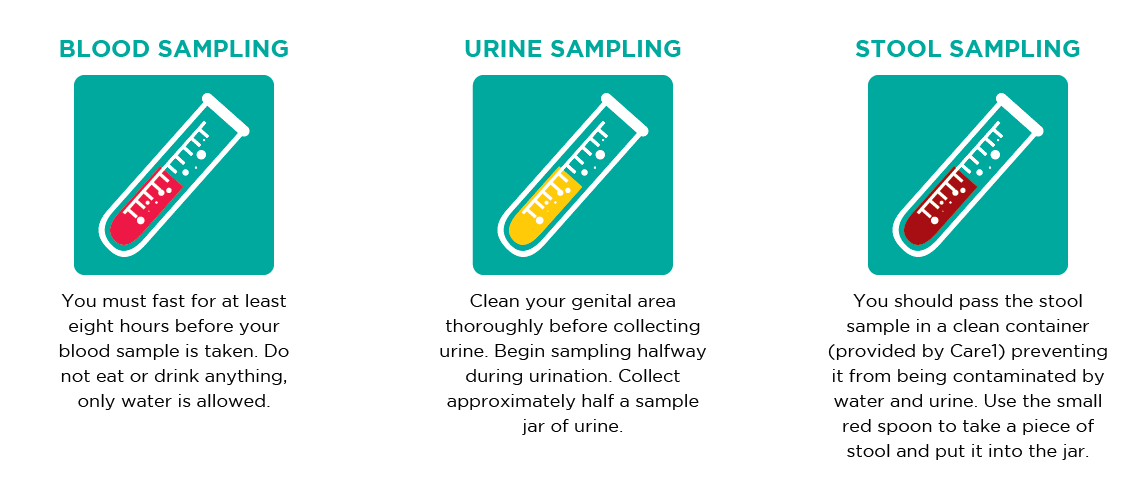 (*) Lab processing at minimum two working days. Certain tests may require longer processing time (e.g: Pap smear & HPV between 5–10 working days)
(*) Kindly submit the urine & stool samples during the blood collection at your company (if containers are provided in advance) or at our medical center. Any samples collected 7 days after the physical examination at our medical center will not be accepted. This will enable our doctor to summarize your medical report in a timely manner without holding up for pending test.
(*) Urine & stool should be submitted 5–7 days after your menstrual period (women only), as blood contamination will affect the interpretation of your result.
Important reminders:
Get at least six hours of sleep prior to the checkup. Lack of sleep may cause abnormal results in blood pressure, heart beat, and body temperature. The doctor may not be able to assess if any change is a real abnormality.
Prepare for blood test: do not eat or drink for at least 8–10 hours prior to getting a blood test for blood sugar level (FBS), lipids (fat), cholesterol, HDL and LDL. Water however may be freely taken to avoid the effects of dehydration on your blood sugar and cholesterol levels in the tests. If you are not going to do a blood test as mentioned above, you can eat and drink as usual.
Please do not drink alcohol for at least 24 hours prior to your appointment as drugs and alcohol may affect some tests. If you have consumed alcohol, please inform the doctor or nurse before the test.
If you are taking medicine for hypertension, you can continue taking it as per your doctor's prescription. For any other medical conditions, please contact your doctor prior to the blood collection day.
If you are pregnant, please inform the staff to cancel the X-ray.
If you have a chronic illness or other health problems, please bring any test results or medical report with you to assist in diagnosis.
Wear a comfortable two-piece outfit consisting of loose clothing.
Please schedule your HPV/Pap smear test 5–7 days after your menstrual period. Please avoid intercourse, douching or using vaginal medicines, spermicidal foams, creams or jellies for 2 days before having these tests.
For stool analysis—Please avoid red meat and iron supplement 3 days before the appointment. Collect your stool sample (2 scoops of the little spoon attached to the sample container lid) 1 day before or in the morning of your appointment. Put it into a small clean plastic container provided by Care 1 with your name labeled on the container. Please schedule your appointment about 5–7 days after your menstruation period.
For urine analysis—Please schedule your appointment about 5–7 days after your menstrual period as blood contamination will affect the interpretation of your urine analysis.
For ladies with digital mammograms—Do not wear any deodorant, perfume, powder or moisturiser under your armpits or breast as it may interfere with the quality of the mammogram. Avoid having the test during the menstrual period as the breasts are tense at that time. Please schedule your appointment about 5–7 days after your menstrual period. Tell your radiographer if you have breast implants/hormone replacement therapy or a cardiac device such as a pacemaker. You will be asked to remove your jewellery during the screening. A blouse with a skirt or slacks will be more convenient for you than a dress.
For eye tests, those who use glasses should bring them for the scheduled vision test. If you use contact lenses, please remember to bring your own contact lens cases for temporary storage during the vision check.
Before undergoing a pelvic ultrasound, you will be required to drink several glasses of water. Please avoid urinating for about 1 hour prior to the examination time. When the bladder is full, it forms a convenient path known as the acoustic window, for the ultrasonic waves.
Please be aware that punctuality is required. We will try to adjust without compromising the next appointment.